Graphic design as we know it today began as early as the printing press in 1440. But humans  have always been communicating graphically well before that time. From cave paintings in 38,000 BC to Chinese porcelain block printing in200 BC which incorporated the world's first movable type printing press out of porcelain, more than 400 years before the Gutenburg press. The Gutenburg press introduced mass communication to the Western culture enabling designers to more quickly reproduce print media, mainly books and literature at the time, no longer having to wait for lengthy or costly reproductions. This paved the way for more commercial uses of design, which introduced graphic design as we know it today.
UX Design or User Experience design came onto the scene much later. The art of UX design includes graphic design, which projects ideas and experiences with visual and textual content but incorporates the idea of making something usable and guiding a user through a user-friendly experience. UX design is understanding how users will interact easily and seamlessly with the tasks or process you are designing. Most people who have heard of UX design attribute it to the introduction of the digital era and the internet specifically but UX design has been around before the birth of websites. The profession of usability, a key component of User Experience design, largely started in the 1980s.
Several usability and UX design methods got their start in earlier fields of Ergonomics and Human Factors which began near the beginning of the 20th century and had a strong influence through World War II.
One of my first UX studies I recall learning in my transition from graphic design to UX designer was a study conducted by Alphonse Chapanis in 1943. Chapanis, a PhD Psychologist, was assigned to improve aviation safety during World War II.
The study focused on the usability of certain controls in an airplane cockpit. After a series of runway crashes, Chapanis found that certain cockpit controls were confused with each other, due partly to their proximity and similarity of shape. Particularly, the controls for flaps and landing gear were confused, the consequences of which were obviously severe and life threatening. Chapanis redesigned the controls by depicting a wheel for the landing gear control and a triangle for the flaps control. This simple but easily distinguishable, even by touch alone, change the user interaction issue of the landing gear being mistakenly raised while the aircraft was still on the ground. This particular usability enhancement to the user experience of cockpit controls is still used today.
Source: https://www.interaction-design.org/literature/article/how-to-change-your-career-from-graphic-design-to-ux-design
Whereas Graphic design is pixel focused and used to communicate ideas, inspire, or captivate consumers, UX design is user focused. Both take creative thinking and elicit emotions from the viewer but UX design thinks about the user and their desired goals before thinking about the aesthetics, such as designing how to depict buttons in an airplane cockpit so the pilot doesn't crash the airplane by hitting the wrong button.
Graphic Designers arrange type, form, and image on posters, advertisements, packages, magazines and other printed matter. They may create logos or combine illustrations with photographs and type in order to communicate an idea. This same creativity translated to the web with the advent of the internet. From banner ads, and websites that were mainly electronic brochures for companies, to gaming interfaces.  Similar foundational principles apply between graphic designing and UX designing such as reinforcing a company's brand through the use of their specified colors and fonts.
A key difference between Graphic and UX Designers is UX Designers also responsible for interactive designs where the content changes as a user navigates through the experience. You're creating a story and a journey through the key tasks of whatever it is you're designing. When you transition to UX design, you'll be working closely with software engineers and designers to understand how computers process, sort and display information as well as how human's interface with your designed prototypes. You'll may also have to design interfaces for products to be used by large numbers of people around the world and take into consideration how something, like color (https://i.stack.imgur.com/yP72l.jpg),  is interpreted by other cultures other than your own.
Start out by incorporating design patterns into your designs. This will keep you consistent with a user's expectations across digital interfaces which prioritize usability and functionality over aesthetics. You don't need to re-invent a log in interface for example. Design patterns can expedite your user flows and allow you to focus on the key tasks you want users to complete when walking through your key tasks.
While having a career in graphic design requires knowledge in only one area, having a career in UX design requires expertise in more than one medium and more than one area of the design process. Let's compare the two.
Credit: https://uxpa.org/resources/about-ux
Transitioning to UX design will require you to not only have knowledge in graphic arts/design but also psychology, ergonomics, user research, software user acceptance testing, etc.
You daily tasks and tools used will also vary from Graphic design to User experience design.
A typical day in the life of a graphic designer:
Designing logos / brochures / posters / social media graphics / display ads

Creating images and illustrations for social media accounts

Setting up files for printing

Coordinating timelines with printers

Review designs with clients and iterating on those designs
Graphic Design Tools:
Photoshop

Illustrator

InDesign
A typical day in the life of a UX designer may include all the above as a graphic designer but also:
Building wireframes for mobile applications and websites

Prototyping with 

Sketch,

InVision, Axure, etc.

Meeting with stakeholders to define user tasks and business goals.

Meeting with the target demographic to understand the user's journey and create their personas.

Conducting usability tests with users on the experiences you've designed

Creating clickable prototypes for users to interact with before development

Collaborating with development to implement your designed experience.

Understanding how to optimize and size graphics for mobile and desktop.

Reviewing designs with clients and iterating on those designs
User Experience Tools:
Photoshop

Illustrator

A prototyping app such as

 InVision

, Axure, Sketch.
What also may entice you to make the transition from Graphic Designer to UX designer is the pay scale differences. As a UX designer, you'll have more opportunities to make well into six figures as your skill set expands.
Glassdoor has the average base pay for a graphic designer as about $53,000. And Senior graphic designers only stand to jump up to $64,000 after 5 to 7 years of experience on average.
The national average salary for a Graphic Designer is $52,589 and a Senior Graphic Designer is $64,175 in United States. Estimates are based on 19,100 salaries submitted anonymously to Glassdoor by Senior Graphic Designer employees.
https://www.glassdoor.com/Salaries/graphic-designer-salary-SRCH_KO0,16.htm
Glassdoor has the average base pay for a UX designer as about $107,000. And Senior UX designer can quickly advance up to $133,000 after 5 to 7 years experience on average.
The national average salary for a Graphic Designer is $107,880 and a Senior UX Designer is $133,916 in United States. Salary estimates are based on 5,384 salaries submitted anonymously to Glassdoor by Senior UX Designer employees.
How do I train to be a UX Designer?
The training and professional background of UX professionals historically is equally broad. Many have qualifications in closely related fields like human-computer interaction (HCI), information design or psychology. Others have used their backgrounds in computer science, project management, journalism, fine arts, graphic design, library science, or business as part of their journey towards being a UX professional.
Human Factors International (HFI) is the world's largest company specializing in user experience design. They've been in the business since 1981.
You can sign up for their courses lasting from 2 – 3 days each. If you already have a degree in Graphic design, obtaining this certification is a fraction of the cost of going back to college to obtain another degree and is widely viewed as a must have for UX designers. I frequently see requests for UX certification and specifically a CUA certification on job postings.
Here's what you'll learn:
Here is a list of more courses to get you started by reputable UX design organizations. Free courses are offered but without a certification.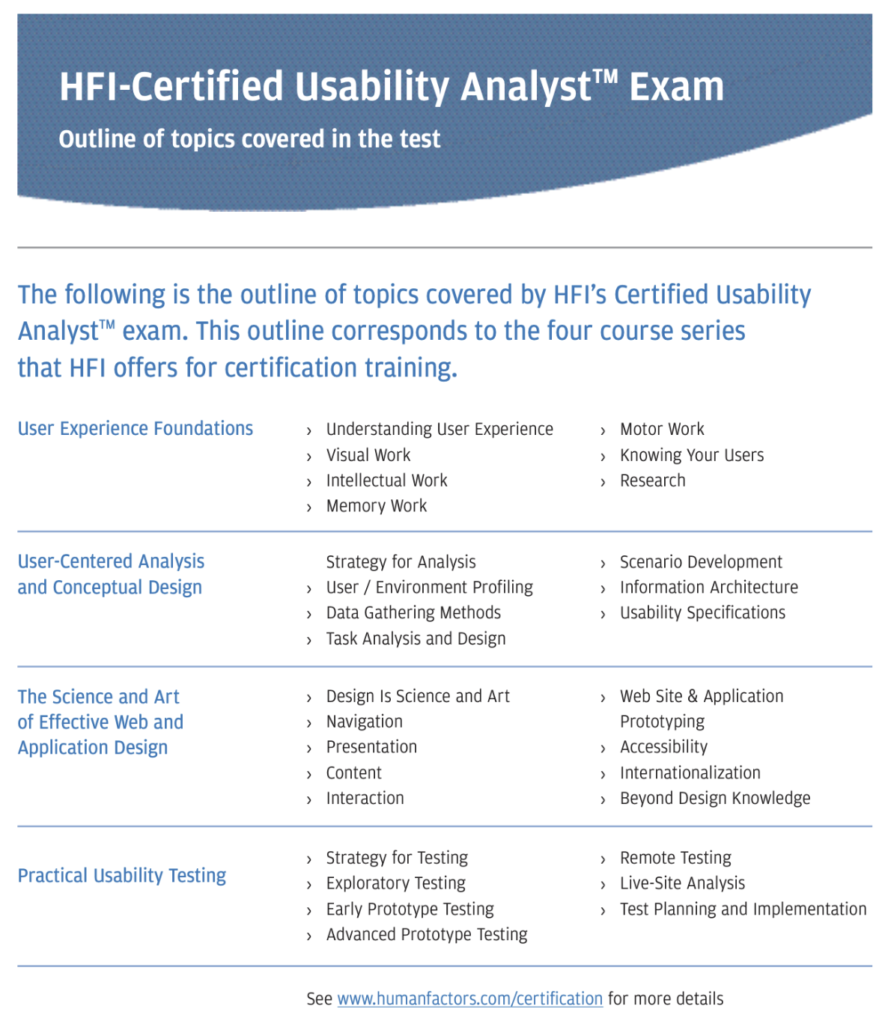 https://uxpa.org/shortcourses
https://www.interaction-design.org/courses